Those questioning the appropriate methods for their oral health may have at one point asked, should I use an electric toothbrush? Well, an 11-year long
study
has recently determined that yes, you should. The study was the longest of its kind into the effectiveness of electric toothbrushes over manual ones, and found that those who use an electric brush have healthier gums and less tooth decay over time than those who use manual ones. While the next question for many may be, "do I need an electric toothbrush?", the answer is not particularly yes, but what nearly all signs indicate is that an electric toothbrush is better than a manual one.
The Benefits of an Electric Toothbrush
Many benefits of an electric toothbrush are in relation to their features that make home care more intuitive. These features include:
Oscillating head – Using a rotating head that spins back and forth provides the ability to remove plaque and tartar from harder to reach places when using a manual toothbrush. Even in standard places in the mouth, these heads can dig deeper into grooves and get the gross stuff like trapped food out.
Pressure indicators – Many who use a manual toothbrush are subject to overbrushing, which can be very damaging to the teeth and lead to recession or gum sensitivity issues. Electric toothbrushes often have indicators to tell you whether you're scrubbing too hard.
Timers – Most dentists will recommend brushing your teeth for around two minutes, twice per day. Electric toothbrushes often feature timers to let you know when you should move to the next quadrant of the mouth, providing a balanced brushing for all sides.
Sonic wave technology – Some electric brushes also feature sonic wave technology, which uses sonic waves to remove plaque and tartar. This technology provides a dynamic clean action that drives fluid between teeth and along the gum line, resulting in an overall healthier mouth.
How to Use an Electric Toothbrush Properly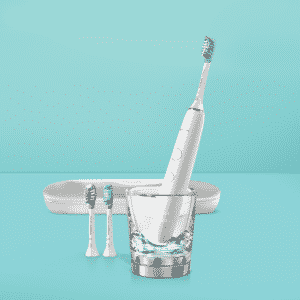 When it comes to using your electric toothbrush properly, it's important to follow a good oral health routine along with it. This includes brushing for two minutes, twice a day, with a good fluoride toothpaste. Also, any good oral health routine would not be complete without using floss once a day. Another small tip to remember is to leave your toothbrush on its charging stand. Nothing is worse than getting ready to scrub your teeth clean in the morning only to find that your toothbrush is not charged. These stands can also get dirty over time, and it's important to regularly clean them as well to avoid the build up of gunk where the toothbrush sits.
Do I Need an Electric Toothbrush?
While the benefits of an electric toothbrush over a manual one are clear, a large portion of people still continue to use traditional brushes. Truth is, they're missing out on some huge features that'll step up their oral hygiene, particularly in the long run. For many, the cost of an electric toothbrush is a deterrent, but with the amount of time and money those people would save from future dental endeavors, the cost nearly pays for itself. Prolonged use of an electric toothbrush is a proven way for people to get the adequate dental health they need, and to feel a huge difference over time.
Inspire Dental Wellness of Orland Park, IL
Have you been looking for an Orland Park Dentist that can offer you the best possible dental treatment? If so, consider what
Inspire Dental Wellness of Orland Park
has to offer for both new and returning patients. We specialize in cosmetic
dentistry
, including veneers and smile makeovers, as well as routine checkups and cleanings for the whole family. Our goal is to provide the highest level of care while simultaneously prioritizing the comfort and happiness of our patients. We are also a proud partner with Sonicare, and sell them to our current patients for less than in-store or on Amazon. If Inspire Dental Wellness sounds like a good fit,
contact
us today to schedule your first appointment!