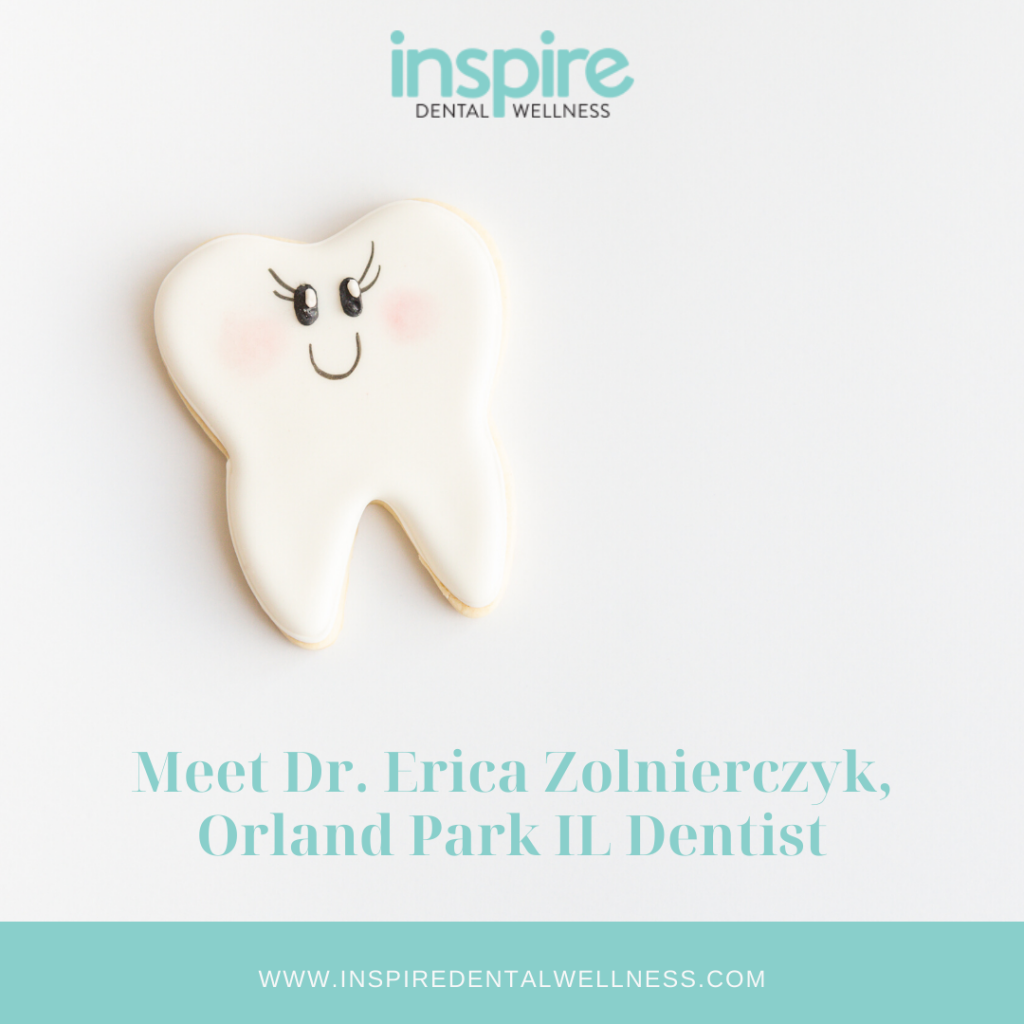 We are SO lucky to know Dr. Erica Zolnierczyk and work with her every single day. We think she is the BEST Orland Park IL Dentist who has ever practiced (we're not biased… at all) and we thought it would be a great time to take over the blog and share a little bit more about her and what makes her so amazing.
Come learn a little bit more about our favorite dentist!
A Little Background
Dr. Erica Zolnierczyk is a general family dentist who specializes in facial and airway development, prevention and cosmetics. She completed her undergraduate education at Loyola University in Chicago where she received a Bachelor of Science in Biology Cum Laude.
After that, Dr. Zolnierczyk went to Southern Illinois University School of Dental Medicine where she earned her Doctor of Dental Medicine (DMD) degree in 2011. After graduation, she decided to return to her hometown of Oak Lawn to be close to her family and friends (lucky for us!) and she's been practicing general dentistry ever since!
She's Simply The Best (Orland Park IL Dentist)
Any dentist can clean and fix teeth. Dr. Erica goes so far beyond that. She believes that listening to her patients will enable her to provide them with the best care possible… and it's true! She really listens and her patients love her for it.
She specializes in tongue tie releases, which helps her give her patients, both young and not-as-young, a better quality of life almost instantly. This procedure helps them breathe easier, eat more effectively (which is especially important for infants) and with her LightScalpel laser, Dr. Erica can do it all with minimal pain.
We also love how she is constantly learning. She's always taking us along to conferences about new ways to do dentistry, like the CDS Midwinter Meeting in February and the Simplifying Complex seminar in March. These aren't just vacations to her, she really gets excited about learning from other people in the industry and she always makes some changes to how we do things afterward. She never sits still or settles! That's the sign of a great dentist!
When She's Not at Work
Dr. Erica has LOTS of fun hobbies! She absolutely loves to knit, so you'll often find her working on several different projects or adding to her yarn stash at her favorite local shop, Llama Llama Ding Dong. She also recently spent a whole weekend planting a vegetable garden, and she loves to read, go to movies (when she can), and travel.
If she's not doing any of those things, she's probably hanging out with her husband, Paul and her adorable French Bulldog, Mini. Mini often pulls double-duty as our office dog and she really lights up people's day, especially if they're feeling nervous about their procedure. Not going to lie, she also lights up the staff's day! So nice to have an adorable pup around the office!
In Conclusion…
It's pretty clear that we adore Dr. Erica Zolnierczyk and working at Inspire Dental Wellness is truly so much fun (did we mention the office dog?) and now you understand why! We didn't want to end the blog without also mentioning that Dr. Erica is passionate about supporting her community and giving back. Not every dentist is like that, and it's one of the many reasons we are grateful to know her.
If you're looking for a new Orland Park IL Dentist, you just have to meet Dr. Erica. Did you know we offer virtual consultations? It's the perfect way to ask dental questions or even get a Smile Makeover Simulation! We have special software that will show you what your "after" smile will look like. Pretty amazing. Click here to schedule a free 30 minute consultation with Dr. Zolnierczyk over Zoom!
Thanks for reading and we hope to meet you (or see you again) soon!