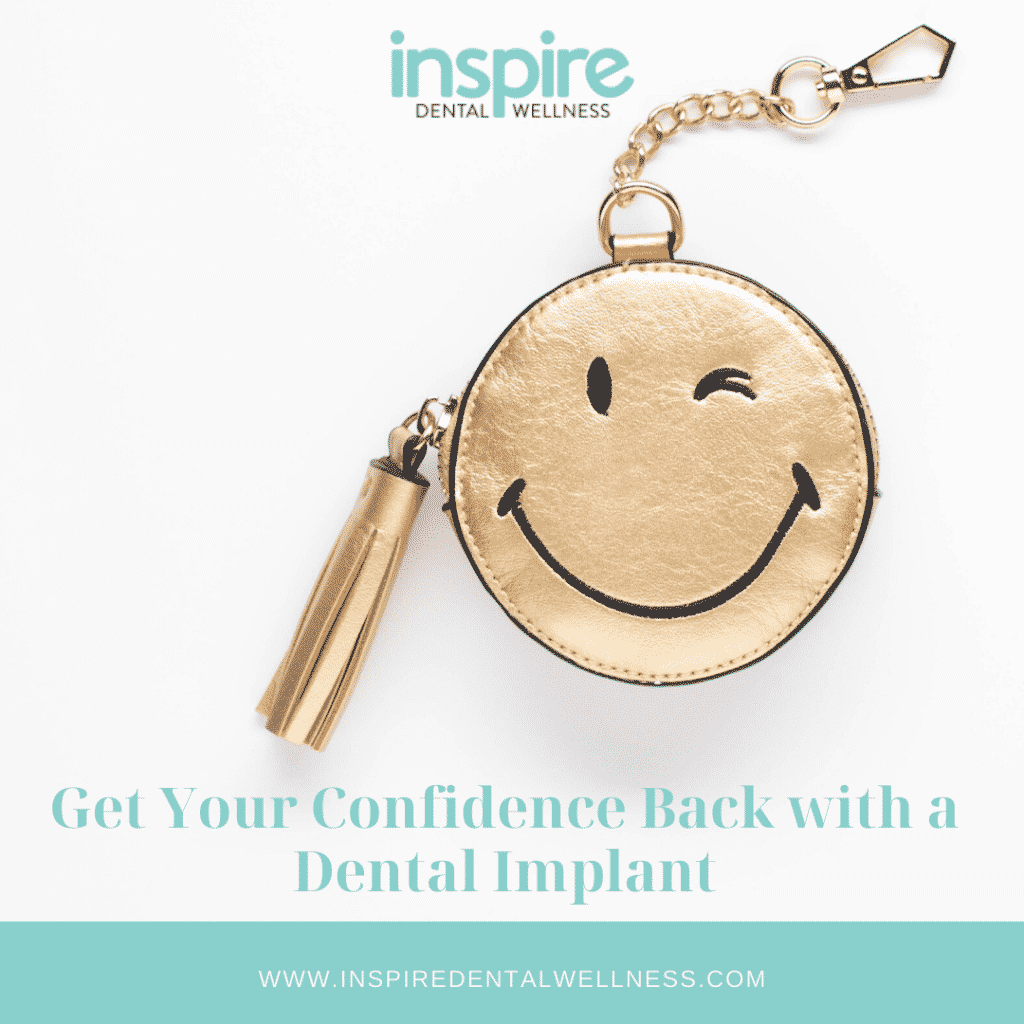 If you have a missing tooth (or teeth), you're probably feeling a little less confident, especially when it comes to showing your smile. Maybe you've taken to laughing with your mouth closed or covering your smile with your hands. You deserve better than that, and dental implants are a quick and accessible way to get your confidence back again.
At Inspire Dental Wellness, we routinely suggest dental implants for patients with missing teeth because the end result is so natural-looking and comfortable. Unlike dentures, they don't impact your speech or your ability to eat your favorite foods, and they don't shift around once they're placed.
It's common for people to have a lot of questions about dental implants, and sometimes, patients even have fear about the procedure. We believe that knowing more about implants and understanding what happens before, during, and after the procedure will help you decide if it's the right option for you!
What Are Dental Implants?
First things first, what are dental implants? Well, a dental implant starts with a titanium screw that we place in your jaw bone. This screw will not be visible, and will eventually fuse with the jaw. Think of it like the root of your tooth.
Next, we'll attach an abutment to the screw. This is a little connector that will hold your new tooth in place and attach it to the titanium screw. This ensures that your implant will be really strong and stay in place.
Finally, we create a custom crown (sometimes called a cap), which is going to serve as your new tooth. We're experts when it comes to matching crowns to both the color and shape of your other teeth so it looks completely natural. No one will ever know that it's not your real tooth!
Are There Any Potential Risks?
In the United States, the success rate for this procedure is currently around 98 percent. You can take comfort in the fact that implants are really safe and very reliable, as long as they're cared for properly. Of course, we always recommend that you keep coming in for your regular check-ups so we can keep an eye on your dental implant (and the rest of your teeth, of course).
Will the Procedure Hurt?
This is probably the most common question we get about dental implants. People see that screw and it instantly makes them nervous. We totally get that, but trust us, you won't feel very much discomfort at all during the procedure. We'll make sure you're nice and numb before we start anything. Afterward, you might feel a little tenderness as the implant heals, but most people can manage with over the counter pain reliever.
What's the Timeline?
Once we place the titanium screw, we need to wait for it to fuse with the jawbone before we can move forward with the crown placement. This can take anywhere from 6-12 weeks. Once the post fuses with the jawbone, we'll have you come back in to create your custom porcelain crown. Once your crown is complete, we'll connect it to the titanium screw using a small connector post and you'll be good to go!
How Long Will the Implant Last?
Because the post fuses with your jawbone, your dental implant is intended to last a lifetime. In order for this to happen, you need to take really good care of it. That means regular checkups, and of course, a stringent oral hygiene routine. For dental implants, we also like to recommend patients invest in an oral irrigator (commonly referred to by the brand name WaterPik) because you want to make sure you're removing plaque above AND below the gumline.
Dr. Erica Zolnierczyk stays on the cutting edge of dental implants with her comprehensive approach to dentistry. She focuses on both the esthetics and the functionality of your smile to make sure you can laugh, eat, and live life with total confidence. Contact Inspire Dental Wellness today to schedule your consultation with Dr. Erica!