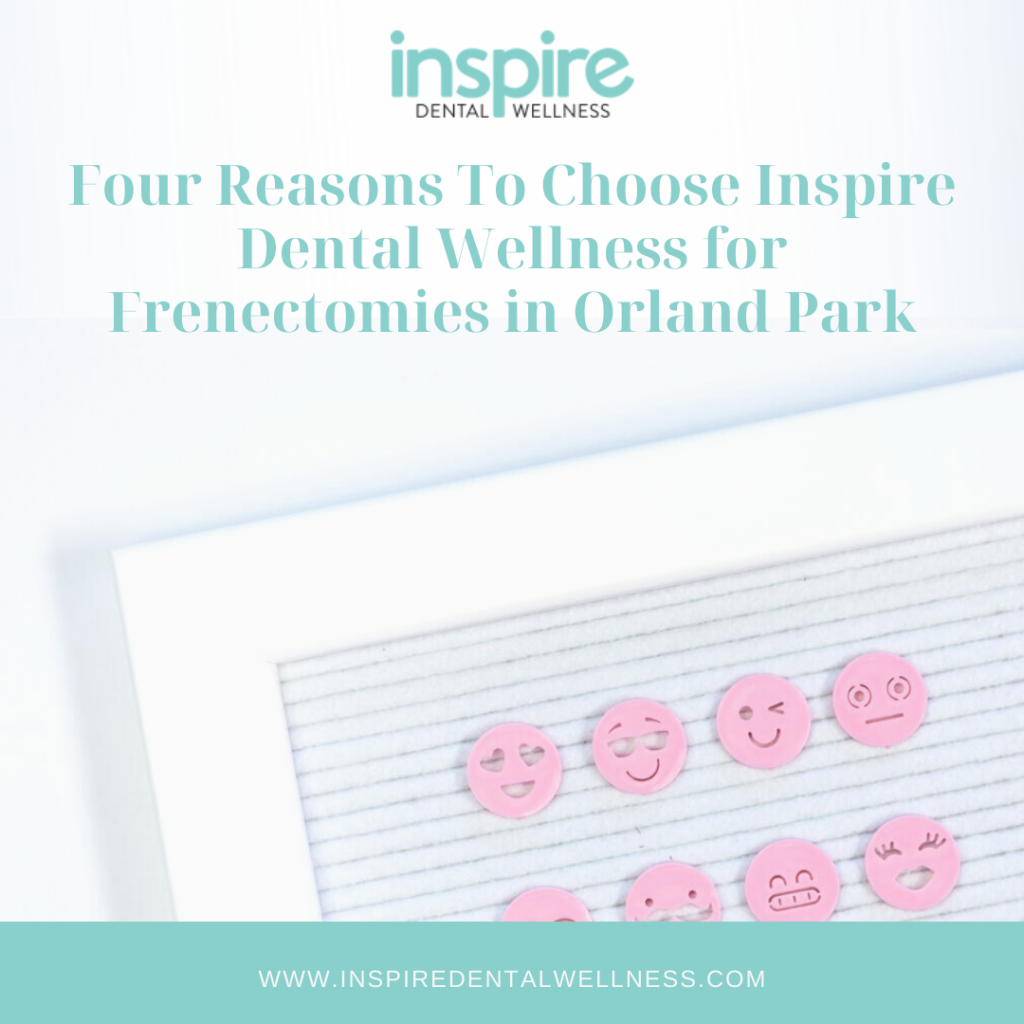 When you're told your little one needs to have a tongue tie or lip tie released, it can be somewhat nerve wracking. Of course, you don't want to see your child struggle with speech, eating, or orthodontic problems. But you also don't want to cause them pain. You want to know that your child is in good hands, and we're going to show you why Inspire Dental Wellness is THE place for frenectomies in Orland Park.
#1 – We're Well Respected
We are so proud to get referrals from lactation consultants all over Orland Park because of our reputation with frenectomies and our advanced technology that makes the procedure quick, it also reduces the risk of infection, greatly minimizes the recovery time, and causes less swelling and discomfort. Those are all things we know parents are very concerned about.
Want to see for yourself? Feel free to read our reviews on Facebook and on Google to read real feedback from our past frenectomy patients. We feel there's nothing quite like hearing from real people in your community who have gone before you.
#2 – We're Objective
We're also very objective when evaluating patients. There are times when we don't feel a frenectomy is the best option. We may suggest some therapy first, then have you come back so we can check to see if the situation improved. If not, we'll go ahead and move forward with the treatment.
You can always rest assured we're not just looking to make a quick buck off of you. We only want to proceed with the procedure if we feel it's absolutely necessary for the health and well-being of your child. We've feel like we've earned such a good reputation for frenectomies in Orland Park because of this honesty and objectivity.
#3 – We Use a LightScalpel CO2 Laser
In a traditional frenectomy surgery, doctors or dentists will use a scalpel or scissors, which can cause bruising or even crush the super sensitive oral tissue. At Inspire Dental Wellness, we've invested in a state-of-the-art LightScalpel laser, which produces a highly focused CO2 laser beam that allows us to be very precise.
With this laser, we can remove a few cells at a time, making tiny incisions which are about the width of a strand of human hair. This means less discomfort, a faster healing process, and no excess bruising!
#4 – We Provide Comprehensive Care
Even though the frenectomy treatment itself is fast, our treatment of your child doesn't stop there. During your appointment, we will go over some important post-operational stretching exercises that you'll need to do to prevent scarring and ensure that your child has optimal mobility and functionality post-treatment.
We always make an extra effort to follow up with you after your child's frenectomy treatment to make sure they're healing properly and to make sure you don't have any questions about the exercises. We know this can be an overwhelming time for parents, and that's why we go out of our way to provide this comprehensive care.
At Inspire Dental Wellness, we perform frenectomies in Orland Park on all ages, including adults. We work closely with Speech Language Pathologists who specialize in oral myofunctional therapy to prepare patients for lingual frenectomies. We also perform labial and buccal frenectomies with our LightScalpel CO2 Laser. To learn more or to schedule your consultation, give us a call at 708-435-2858.