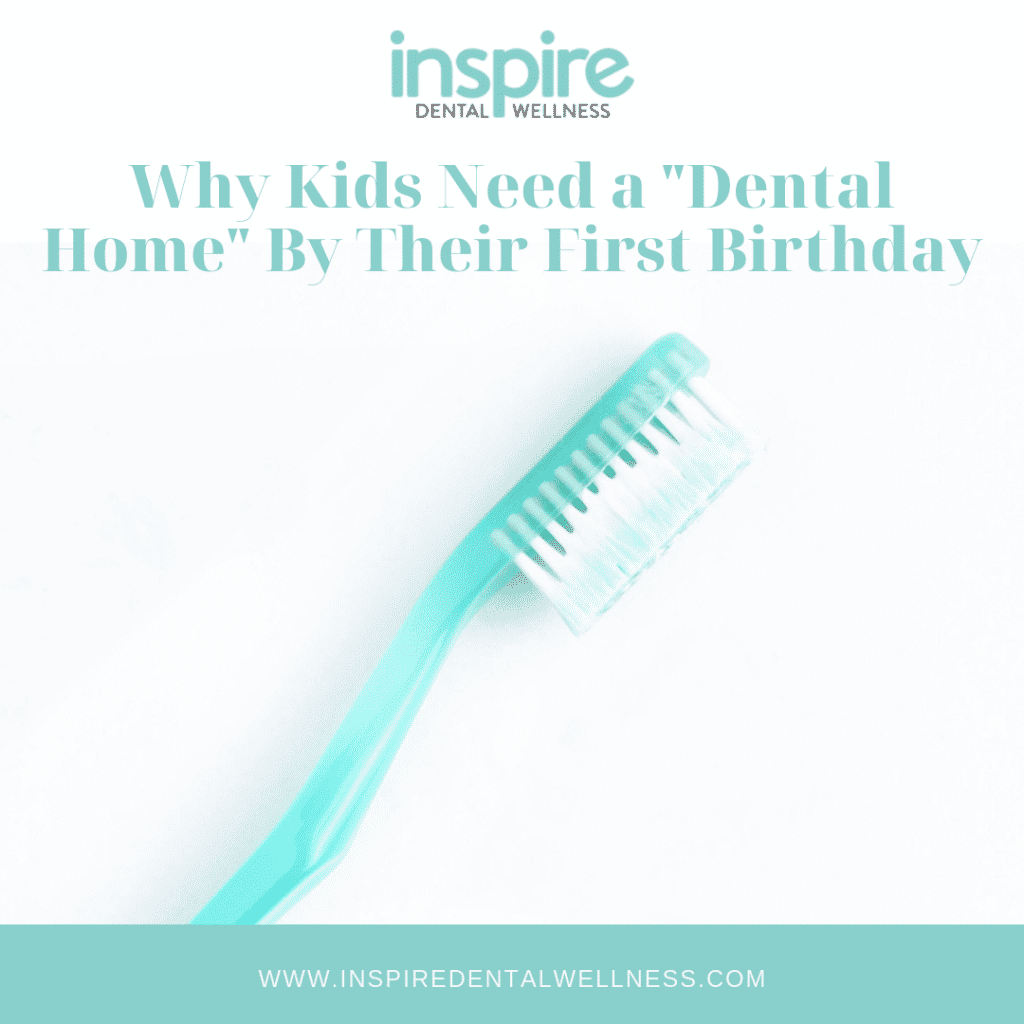 Parents oftentimes have trouble determining when it's time for their baby's first dental visit. What is the right age? And, when is it best to establish a "dental home"? Let's take a closer look. If we're being honest, a lot of times this uncertainty is what causes parents to hesitate too long when scheduling that initial appointment. So, what age should a child go to the dentist for the first time? Generally, a baby's first dental visit should take place as soon as their first tooth erupts, which means no later than age one, according to The American Dental Association and the American Academy of Pediatric Dentistry.
Yes, this might seem early, but the first visit isn't really for a traditional cleaning or even for x-rays. Our main goal is to get your little one used to the dentist, and also to educate you on how to best care for your baby's gums and those brand new teeth. We'll also look for tongue ties or any other issues that may need to be addressed at that time. It can be tough to know when to start oral care for a baby, and this preliminary appointment can set a lot in motion for the future.
How Can I Improve My Child's Dental Health?
While it's important for parents to schedule that initial appointment, it's just as important to find a dental practice that you feel comfortable choosing as the "dental home" for your child. What does this mean? It just means you should be establishing your child as a permanent patient at a family dental practice or pediatric dentist. Choosing a comfortable dental home is one of the easiest ways to improve your child's dental health, as it sets the stage for continued appointments going forward, and alleviates much of the stress that comes with a baby's first dental visit.
When choosing your dental home, you want to make sure you have someone you can call in case of an emergency or question. You also want to ensure you are developing a relationship with a dental team who can oversee your child's oral health from age one (or younger!) through adulthood. It's great if you can find a place that does orthodontics as well as general dentistry, in case your child ends up needing braces. It's so easy when your child's regular dentist can handle their orthodontic treatment as well!
How Often Should a Child Go to the Dentist?
Once your child is teething, we like to see them every six months. We will do a preventive checkup on the teeth we can see. Even though these teeth are new, there can still be decay on them due to the sugar content in milk and/or juice. We'll also check their bite alignment, especially if they suck their thumb or fingers. We simply want to make sure there's no warning signs of any future issues, especially during a baby's first dental visit.
The first few times your child visits the dentist, we may not be able to accomplish a full cleaning, but by the time they're around three, we should be able to get a proper cleaning done just fine. Then, starting at around the age of four or five, we'll take x-rays as needed, as long as the child is able to tolerate it.
Choose Inspire Dental
All children need a dental home, and we sincerely hope you'll consider Inspire Dental when choosing one for your child and family. We're so proud of our infant frenectomy procedure. We use the LightScalpel CO2 laser, which is precise and gentle. We also specialize in early orthodontic treatments, because we believe that most orthodontic conditions can be easier to correct if they're treated early.
We'd love to have you in for a consultation or initial appointment. You can call our office at 708-460-6699 or request an appointment right from our website. If it's your first appointment with us, we'll send you some new patient paperwork via email to fill out ahead of your appointment. Also, be sure to check out our membership club, which can offer huge savings on individual or family treatments, including orthodontics!