What to Know About All-On-4 Dental Implants
All-On-4 dental implants are a popular choice for full-mouth dental reconstructions and offer patients a safe, effective, and long-lasting solution to missing teeth on the upper or lower jaw.
Unlike traditional implants, which require as many as 10 implants to restore full mouth functioning, the All-On-4 procedure places four implants strategically on the affected part of the jaw. All-On-4 dental implants require just one surgery and have a typical recovery period of around one week.
Learn more about All-On-4, and contact our office today for a consultation.
How the
All-On-4 Procedure
Works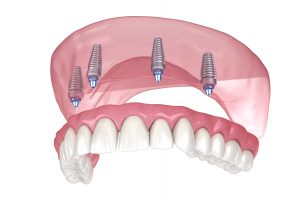 Because All-On-4 dental implants provide a full mouth restoration, the first step in the process is always going to be a comprehensive consultation and examination. This allows your dentist to fully understand your dental history and goals, and enables them to make the best recommendation for tooth restoration.
The All-On-4 procedure itself is done under sedation. Your dentist will remove existing teeth as needed, as well as any damaged bone or tissue. Then they will make a series of small incisions to shape the arch sockets, which impacts the positioning of the implants. Once that's done, implant screws and connectors will be placed, and the temporary implants will be secured into them.
Gums will be sutured at the time of the procedure and then the healing process can begin. Your temporary implants will be replaced by permanent implants after new bone growth has integrated around the screws and connectors – a process that takes anywhere from three to six months.
All-On-4 Dental Implants FAQs
Quick answers to common questions you might have about All-On-4s.
What is the success rate for All-On-4 implants?
The All-On-4 procedure has a 98% success rate on the lower jaw and a 97-98% success rate on the upper jaw.
How do I clean All-On-4 dental implants?
Good oral hygiene is a must for maintaining your All-On-4 implants. Brush twice daily with a high-quality electric toothbrush and use a water pick and floss at least once a day. Regular dental cleanings are recommended every three months.
Can I get All-On-4 implants?
Most patients are great candidates for All-On-4s. Prior to okaying the procedure, your dentist will do a complete workup to verify that the bone volume and quality in your jaw are sufficient for these types of implants.
Want to know more? Call our practice for more information or to book an appointment for an All-On-4 consultation.